AUSTRIA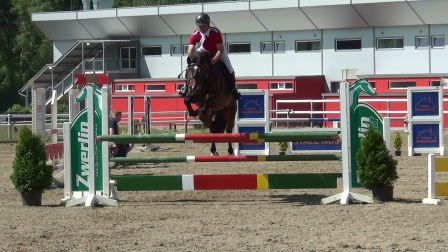 Informationen
Rasse: Holsteiner
Art: Stute, braun
Lebensnummer: DE421000490108
Stammnummer: 4564
Geboren: 08.04.2008
Abstammung: von Casall aus der U2 von Corrado I-Landlord-CordelaBryere
Züchter: Heide M. Kriegler, Sportplatzgasse 11, 7032 Sigleß
Father Casall is the climber among the young stallions. Successful in big sport with Rolf Goran Bengtson. The mother U2 passed a good mare performance test in Lürschau. When she entered the studbook she received a premium. Austria is currently doing the basic training u. completed the mare performance test in Holstein in early February 2011. Station test in Lürschau: overall grade 8.43. In free jumping training as well as in front of the judge she got 9.0 each. When she was entered in the stud book, she received 51 points. (State premium candidate) The mare gave birth to a colt by DIARADO (Diamant de Semily / Corrado I) on March 26th, 2012. (DIALLO) 2013: First tournaments: CSIYH1 * 5-6 year old horses victorious a.placed.
2014: CSIYH1 * for 6-7 year old horses often highly placed.
2017 and 2018 highly successful in international tournaments up to CSI **** in the USA.
2019: Victories and high placings up to CSI ***** with Kent Farrington in Spruce Meadows (1.45 and
1.50 m) Geneva: Jumping with jump-off (1.50 m) 2x without mistakes
Victory with Kent Farrington in the ROLEX Top Ten jumping competitions in Geneva 5 * (1.60 m) Prize money for a win: 160,000 CHF
LATEST NEWS: June 2019 CSI ***** in Calgary with Kent Farrington
PLACE 1 and twice 2nd place …
Video of one of the TOP RITTE !!
https://www.youtube.com/watch?v=Z5lx6SCMlOE
Pedigree
CASALL

Caretino

Caletto II
Cor de la Bryère
Deka
Isidor
Metellus
Corbala
Kira XVII
Lavall I
Landgraf
Madam
Maltia
Raimond
Duldige
U 2
Corrado I
Cor de la Bryère

Rantzau

Quenotte
Soleil
Capitol
Kürette
Dinah I
Landlord
Landgraf
Girane
Vanfare
Cor de la Bryère
Allee
Video